FAQ
1. How to order photo editing?
Specify your expectations and select files to be processed.

Write me a message

, attach files to be processed. You can also attach an inspiration images and a description of expectations in details.

It is best to send several photos from which I will choose the most suitable for a particular photomontage or retouch
Expect my reply with a comment and a valuation – usually I reply within 1 day 🙂
2. How much does a photo retouching or photo montage cost?
The price of the work is specified at the very beginning. Each image is treated individually and requires a different amount of time for being processed. For this reason, I evaluate each work individually and as soon as possible after receiving the order and materials.
3. I want to try, but how can we start?
We start with an idea 🙂 Then we choose two or more photos to be combined with each other. The choice of photos must be carefully thought out for the final effect to be natural.
https://blog.edugrafia.pl/jak-dobrac-zdjecia-do-fotomontazu/
4. What should the quality of images be?
When it comes to photomontage, the file quality plays a key role. It does not have to be very high, but it has to be similar in the source images group. It means that the component files from which I will make a photomontage must be of similar quality. See an example.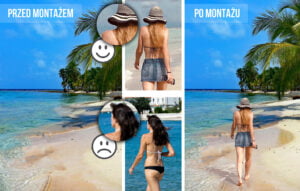 The second key point for photomontage is the compatibility of the lighting. The lighting conditions in the source images cannot be extremely different.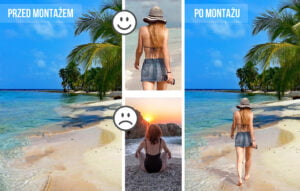 Photographs in the form of prints on paper should be scanned in very high resolution. It is best to order a professional scan in a photo-laboratory. Home use scanners may not be able to handle small prints, such as old photos for documents. I recommend sending original photos from digital cameras or smartphones in the source size and resolution. Photos downloaded from the Internet, e.g. from Facebook or from messengers such as Messenger, are compressed, which radically lowers the quality.
5.  What exactly is this photomontage?
Photomontage, photomanipulation, visualization, collage, multisexposition, matte painting … all these expressions have one thing in common – computer image editing. Not only computer, because other techniques are also used, but I work primarily in the digital world. What are the possibilities? 
Let me explain. The definition says: " A photomontage is a picture that was created by combining several fragments of photographs and other graphic elements". Simply put, it's a photo modification. It can be adding or removing an element from a photo, changing its appearance, but also creating a completely new reality, i.e. visualization.
These possibilities are used for commercial, advertising, entertainment or private purposes. A photo montage can be a work of art, it can also be a way to…cheat*. It is primarily a great tool to get a great visual effect quickly. 
* I do not edit photos of documents and ID cards and items for sale in order to hide their damage and malfunction. I do not edit material when I have reason to believe that it will be used for illegal purposes.
6. What are the possibilities?
One glance at my portfolio and you will see how wide the spectrum of taking advantage of photo editing techniques is. 
Presentation, product visualization, advertising graphics, photo montage for a gift, as a souvenir, infographics, motivational photo, rescue for unsuccessful photos where one of the objects / characters is undesirable. Here's what we can achieve. 
My clients constantly surprise me with their ingenuity 🙂 I love the moment when, after analyzing the material, I can reply: "Yes, of course, it is possible." That's when the magic begins.
7. Copyrights and confidentiality rules
The files sent to me are used only for the purpose of the contract and are not available for anyone else. The exception is when you consent to the publication of the work in my portfolio. By sending me any graphic materials, you declare that you have rights to them and that these materials do not infringe the rights of anyone. You also consent to the use and graphical modification of these materials in order to fulfill the order. 
All my works are copyrighted and should not be used for commercial purposes, unless the contract states otherwise.
8. Who are you anyway? 
My name is Martyna Cichocka, I am the creator of Effect After. 
I help entrepreneurs present their products in an attractive and unique way. 

I help marketing agencies in creating unique advertising graphics. 

I support photographers in the post-production of photo sessions, listening to their needs for a perfect final result. 

I also implement various ideas of individual clients 
A little bit of history…
 It is difficult for me to say when my adventure with graphic image processing began. I feel like I've been doing it forever. I took my first steps in Adobe Photoshop when I was in my teens. Then I retouched images from scanned photographic film, that I used to develope in the darkroom. Talent, experience, genes… If it's genes, maybe I inherited it from my grandfather, whose greatest hobby was photography. Studying at the Academy of Fine Arts was a solid school of spatial imagination, lighting theory, composition, manual skills, creativity … and many less useful things. I am a graphic designer and interior designer. The first is the closest to my heart.
9.  Didn't find the answer? 
Please feel free to contacy us.